Yesterday, the This Week in Startups podcast featured an interesting guest with a fantastic tale: Delane Parnell, CEO and founder of PlayVS— the "Official High School eSports League." The thing that stuck out for me watching the episode was the guest's seemingly unbelievable story. Parnell paints an origin story of himself as a sort of business prodigy who from a young age was always destined for great success. He claims to have kicked off his entrepreneurial career by opening his own cell phone store in Detroit at age 16 while still in High School, before moving on to start his own car rental business around the same time.
After selling his stores and car rental business, Parnell became a figure in the Detroit startup scene by launching his own startup event and speaker series modeled after Jason Calacanis's Launch Festival. Leveraging his newly found status in the Detroit entrepreneur scene, Parnell landed a job at a small seed stage Venture Capital firm becoming the youngest black Venture Capitalist in America.
All of this leads to Parnell meeting LA based startup founder and venture capitalist Peter Pham at SXSW in 2017 who convinced him to "move to LA to become a billionaire." Enticed by Pham, Parnell moves to Los Angeles and goes on to raise nearly $100,000,000 for his newly founded startup, PlayVS, in just 13 months!
But it makes you wonder: How did a young man with little experience in eSports, no computer programming skills, and no experience creating tech startups, convince investors to give him $96,000,000? Had Parnell raised $96,000 the story above might make some sense. But $96,000,000?
From my research PlayVS's footprint and web presence does not match the amount of funding they have raised. They have a very small following on Twitch, around 1,000 followers. And after registering as a player (and coach) on their website, I discovered that their website is empty and unfinished. From what I could tell, they are currently using a lean startup style website that appears at first glance to be fully functioning, but is really just a tool for collecting email addresses. According to Parnell there is currently a wait-list to join, so that maybe explains a few things. But from my research it certainly looks a lot like vaporware to me. For example, here's what the website looks like if you signup as a player: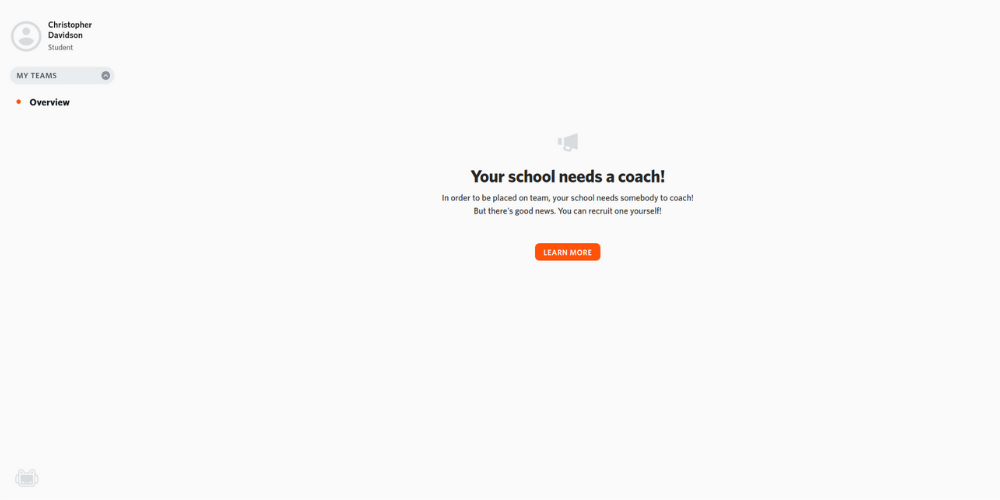 The site simply notifies the player that his school needs a coach. Sounds reasonable right? But after registering a coach account with a different email address, the website is empty for coaches as well: There's nothing there! You can click on the user icon to update the coaches personal information, but that's it! So when Parnell says that there is currently a "waitlist," it's quite possible that PlayVS hasn't actually built anything yet and is using the term "waitlist" as a convenient euphemism.
I don't know. I may be wrong, but what do you think? Could Delane Parnell be the next Evan Spiegal? Or is he the next Billy McFarland? Only time will tell, so we'll have to see how this post ages. But if PlayVS does happen to fail spectacularly, you heard it here first!
Note, at the time of this blog post https://topherpedersen.blog has a higher Alexa Internet Ranking in the United States than https://playvs.com. Red flag?